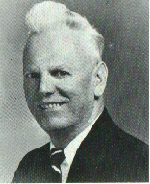 This collection of sacred poems is affectionately dedicated to the memory of Rudolph Kalis, who with his wife was founder and pastor of Emmanuel Pentecostal Church at Elizabeth, New Jersey. Born December 27, 1901, he first came to Elizabeth in 1929. He served as pastor of the German-English congregation of the Ebenezer Pentecostal Church (later Evangel Church). Then for almost forty years, until his home going on July 17, 1975, he faithfully ministered to the Emmanuel congregation.
A very integral part of his preaching ministry was his recitation of sacred poetry. His ability to memorize long poems never diminished. He often would clinch his sermon by reciting one or another of the poems included here.
These poems show clearly the burden of his preaching. Rudolph was an activist for Christ and sought to inspire his congregation to be active for Christ. What he sought to inspire in others, he exemplified himself.
The poems themselves have been gathered from his notes, from devotional books, especially "Streams in the Desert" by Mrs. Charles Cowman, and from the memories of those who sat under his ministry and can never forget his poetic recitations.
Perhaps some of the short untitled poems at the close of this collection belong to longer works which we have not been able to find, but we have included them as remembered in order to expedite this collection. We pray that God may bless this little memorial by inspiring His people to do His will.
~~Robert D. Kalis
Thanksgiving Day, 1975